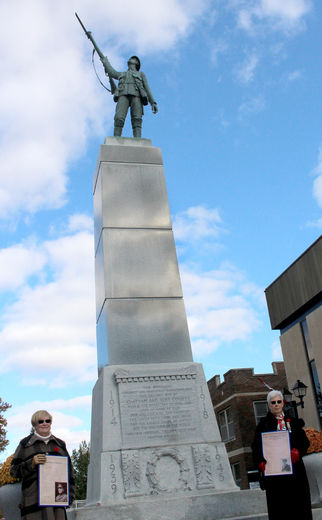 Rev. Mark Sceviour had a gut feeling people wanted a way to show their patriotic pride and it appears a 150-hour vigil being held at Chatham's cenotaph is proof of that.
The vigil, which began on Sunday at 6 p.m. and will last until just prior to Saturday's Remembrance Day Ceremony at the cenotaph has "been going fantastic," said the chaplain-in-training at Christ Church, who is also a captain in the Royal Canadian Air Force.
Since it began, he said between the people standing vigil and those covering the hospitality side of the project at Christ Church, "we haven't missed a minute, yet," Sceviour said.
"We've got confirmation now that this is the only community doing this across the nation," he said. "I think if more communities had done this, they would have found the same outpouring that we have."
There are several personal stories of why people are taking part in the vigil, he said, adding it has been "very impactful" on residents.
Sceviour said an elderly man, who showed up for a 9 p.m. to midnight shift, said the last time he stood vigil at the cenotaph was as an army cadet in 1953.
"When this opportunity came up, he wasn't going to miss his chance to stand vigil again."
Sceviour said, "I think Canadians are fiercely proud and sometimes just want outlets.
He also believes "a lot of people wanted to way to say that in a very Canadian way, which is a very reserved way."
Sheila Dejaegher, whose late husband Marshall served with the First Hussars Regiment in the Second World War, was among the members of Kent Regiment Chapter IODE who were standing vigil on Tuesday.
"I think it's wonderful that they organized it," she said
"I think most people they have compassion for what happened during the war," Dejaegher said, adding people are patriotic and still come out to remember veterans.
"That's what it's all about, we must never forget," she said.
Sceviour said there are still a few time slots where more participants are needed, which include Thursday and Friday at 3 a.m. as well as 3 p.m. on Friday.
He added people are needed to help at Christ Church, which is also staying open for 150 consecutive hours.
"For every hour we're covering at the cenotaph, there's a team of people here at the church providing the hospitality," Sceviour said.
He noted there is hot soup and chili and warm drinks available 24-hours-a-day, which requires a lot of volunteers to run.
Those interesting in participating can contact Christ Church at 519-352-1640.
The featured image is about: Kent Regiment Chapter IODE members Sue Martin, left, and Sheila Dejaegher are among local residents taking part in the C-K Keeping 150 vigil that involves have someone stand vigil at the cenotaph in downtown Chatham, Ont. for 150 hours leading up to the Remembrance Day Ceremony on Saturday, November 11. Photo taken on Tuesday November 7, 2017. (Ellwood Shreve/Chatham Daily News/Postmedia Network)