 | | |
| --- | --- |
| Rank | Private |
| Service # | 803021 |
| Unit # | 135th |
| Resident | Bothwell |
Son of Ishmael Allen of R. R. #3 Bothwell, Kent Co. ON. A single farmer living at home. Attestation: 3/03/1916 at Glencoe, ON. to 135th Bn. Reported to have returned from O/S duty
"A Letter from a Bothwell Boy" appeared in the Bothwell Times 12/10/1916 sent to Mrs. B. Allen of Bothwell:
"Witley Camp, 13 Sept., 1916.
Dear Cousin,
Just a few lines to let you know that I am well, hoping you are all the same.
We had a very fine trip one glorious time on the train and a very fine trip on the boat. There are somefine scenes on the way to Halifax. The land in Quebec is vey rough until we came to the St. Lawrence down through New Brunswick. There is a lot of timberland and some of the pettiest rivers one could imagine. The bay at Halifax is very pretty too. We laid there three days before we embarked taking on coal and water then six days crossing. It was calm all the way across. There were ships in sight every day.
The street cars here are very small only three windows on a side but are two storeys high. The railway coaches are about as big as the street cars in Canada.and the freight cars are like big boxes on wheelstheir capacity is from 6 to 10 tons. The engines are very small but travel very fast.
We have a good camp ground. We live in huts instead of tents. They are about 18 ft. by 70ft. and thirty men to a hut. We have fine times. Carl's hut is the one next door. The roads are very good but awful narrow and very crooked at least the most of them. The have either stone or brick walls or hedges along the most of them. They are quite pretty.
We are getting a six day pass. I am going down to Old London to see the sights. There is a good sized town two miles from here; the streets are very narrow and the side walks are about wide enough for two to walk side by side. England is just as you read about it in books and see pictures of it.
They farm on a small scale, unless it's a big estate owner. The crops are very good what I could see from the train, you can not see much of them when going along the road for the fences are too high to see over most places. There is an Irishman in our hut and he makes fun for us  all. He came in one day teling us the orders in his own way of course. He said the non-commissioned officers were to parade in their bare feet and no putties. They could wade in the water as deep as they liked as long as they did not monkey with submarines. The officers were to see that all men were fed and watered before going to bed. He a comical fellow.
Well  must close, best regards to all.
Yours truly,
Pte. D. S. Allen, Reg. No. 803021,
D Co., 14th Platoon, 135th Bn.
C.E.F. Witley South Camp,
Army Post Office, London,
England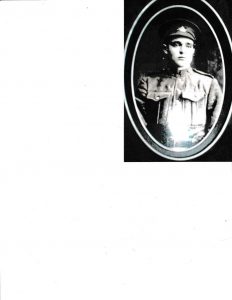 ADDITIONAL INFORMATION
| | |
| --- | --- |
| Sources | Chatham Daily News (22-04-1919), RG 150, Accession 1992-93/166, Box 92 - 14 |
---
Notice something wrong with this record? Or, do you have something to add?
Report it using our online form.