| | |
| --- | --- |
| Rank | Trooper, Private |
| Service # | A67944, A470384 |
| Unit # | Headquarters Squadron Canadian Army Brigade Tank Corps, 1st Canadian Tank Brigade |

Born 15/02/1921 at Louisville, Kent Co. the son of Maude Arnold. On. Attended Central School and CVS in Chatham. A member of Park Street United Church. Prior to enlisting he was living at 154 Baxter St., Chatham, ON.
Douglas was married to Betty and they had three children, Wendi, Linda and Dale. Discharged from service 11/02/1946.
Douglas enlisted in 1940 with the 2nd Kent Regt., trained in Canada. 6/12/1942 Tpr. Arnold went overseas, serving with 1st Canadian Tank Brigade where he served in England, Sicily, Italy, Holland, France and Germany from 1942 to 1946.
While in Sicily Tpr. Arnold was mentioned in Dispatches after overtaking a speedy advance of the British 8th Army driving up the coast of Calabria. "Over country thay makes jeeps catch their breath, a flying column from a tank regiment last night completed a swift dash that in three days carried it from the outskirts of Riggio Calabria to the head of a column 110 miles away." Those mentioned were Tpr. Tom Hills, Frank Deveauk, Ken Basala, and D. G. Arnold of Chatham, Ont.
Doug was mentioned in an article in the CDN 7/03/45 which praised the 1st Canadian Armoured Brigades service in Italy.
The CDN 31/12/45 reported that he returned to Canada aboard the S. S. Mauritania.
Arrived aboard the S.S. Mauritania from overseas docked at Halifax NS. 1 January, 1946.
Douglas passed away 9/02/1998.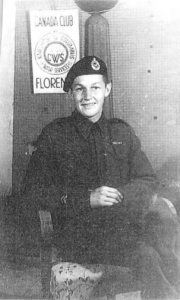 ADDITIONAL INFORMATION
| | |
| --- | --- |
| Awards | C.V.S.M. Clasp, France, Germany Star, War Medal, 1939 to 1945 |
| Sources | 2KRMR, CS-RH, IODE(P), PSCBR, NB |
| Supplemental Information | Appears on the 'Muster Roll' of the 2nd Bn., Kent Regiment (MG), N.P.A.N. (date unknown). |
---
Notice something wrong with this record? Or, do you have something to add?
Report it using our online form.