| | |
| --- | --- |
| Rank | AC2, Flying Officer, Flight Sergeant |
| Service # | R137281, JH6166 |
| Unit # | R.C.A.F., Unit 432 |
| Resident | 108 Lorne Avenue., Chatham |

Son of Mr. James and Mrs. Nora Maguire of 108 Lorne Ave., Chatham.
George was born in Ottawa August 29, 1920 and living in Chatham. Address at Enlistment: 168 Lorne Avenue, Chatham. He attended Queen Mary School. He worked at the Chatham Daily News, Canadiana Department Store (Eaton's).
He enlisted in November of 1941. He received his training at Brandon, MN., Camp Bordon, Guelph and Fingal ON. and Pennfield NB.
Glen was reported being at No. 4 Wireless School, Guelph, ON. when he wa in Chatham on a week-end leave to visit his family. CDN 17/08/42. P/O Maguire went overseas in June of 1943 as a Flt. Sgt. Wireless operator. Assigned to 6 Group, 432 (Leaside) Squadron located at East Moor, Yorkshire, a Halifax bomber RCAF station.
George had taken part in fourteen raids over Germany. On the morning of 30 March the squadron was alerted that the evenings mission was a "Grand National", code for a maximum effort. The crew of Halifax bomber LK 754 was later brief that the target that evening would be Nuremburg, Germany the furthest penetration yet attempted by bomber command.
Raids prior to Nuremberg had been against the "Big City" – code for Berlin. The Battle of Berlin had been costly to Bomber Command 569 aircraft lost over Germany over the four month battle, another 72 had crashed over Britain with 2,938 aircrew KIA, 92 WIA, 716 POW and 36 escaped or evaded capture. 6 Group RCAF accounted for 437 KIA, 127 POW's and 9 escaped or evaded of that total.
The raid on Nurmeburg would go down in the annals of WWII as the "Dieppe of the strategic bomber offensive against Germany.
For F/O. Maguire the horrors of the raid that evening would begin when the pilot F/O Earl K. Reid began the make the turn over Thuringer Wold that would be the approach to target Nuremberg. It was then that one of the four engines on the Halifax burst into flames. F/O James Smith "Smitty" from Victoria, BC. Would later write, "After the third attack we went into a dive, and Earle gave the order to abandon the aircraft. Everyone was very calm, even though we were going down very quickly."
LK 754 was on fire and plummeting from 22,000 feet – W/O MacDonald had no time to jettison the bomb load, "Smitty" was the first to bale out, "I jumped, pulled my chute and looked down, our aircraft was already on the ground below me." The stricken Halifax had drifted from it's original course and crashed between two rail lines into a corn field at 00:40 (40 minutes past mid-night), exploding on impact killing the pilot F/O Reid who was unable to escape the plane, it was his 21st birthday.
Besides F/O Smith, others of the crew taken prisoner were W/O. Vincent MacDonald of Meota, Sask., Sgt. Joseph Barr AG. From Pt. Edward, ON and F/O wireless operator George Maguire.
Sgt. Bob Clarkson, 21 years old from Hamilton, ON the last to parachute from the aircraft unfortunately landed on high-tension electrical wires and was electrocuted, Sgt. Barr found his parachute tangled in the railway power lines. Sgt. John A. May the only RAF member and the flight engineer from Gravesend, Kent, England was unable to escape the plane when his parachute opened inside the plummeting bomber. F/O Ried remained at the controls of the Halifax allowing the crew time to escape but by then it was too late for him.
The CDN 26/02/44 reported that Sgt. Maguire was aboard a bomber flown by WO. V. C. McDonald in the attack on the city of Augsburg, Germany in February 1944. Beside the 'Pathfinders' squadrons from the Canadian Squadrons of Bomber Command included Thunderbird, Goose, Lion, Alouette, Porcupine and Tiger. The crew reports indicated heavy damage had been done on the centre of the city and a suburb areas as well. The glow of the city could be seen for 90 miles. There was a large supply of Nazi fighters and the flak was very heavy.
Glen was reported as MIA over Germany on 31 March, 1944 while on a bombing run. It was reported that this was his fourteenth operational flight. George was in fact a POW since April of 1944 for 1 ½ years. In a letter to his mother (CDN 14/08/44 with photo) Glen reported that he was in good health "Cheer up mother, I'll be home soon".
The husband of Edna (nee Douglas) they had one son while Glen was in service; Edna passed away in 1984. It was reported in January of 1945 that Flt. Sgt Maguire had been promoted to Flying Officer. CDN 27/01/45 The brother to Margaret "Maggie", (Bennett) of Chatham.
George died 6 June, 2010 at LHSC, London, ON. at the age of 89 years, burial at the Memorial Gardens, Hwy. #3, Tecumseh, ON.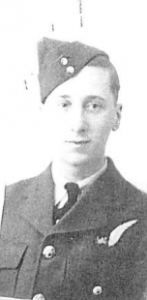 ADDITIONAL INFORMATION
| | |
| --- | --- |
| Sources | CDN 14/08/44, CDN9/06/2010, VR.  "Through Footless Halls of Air" – F. Williston pg.143. |
| Supplemental Information | Son of Mr. James and Mrs. Nora Maguire of 108 Lorne Ave., Chatham. |
---
Notice something wrong with this record? Or, do you have something to add?
Report it using our online form.