 | | |
| --- | --- |
| Rank | Cpl. |
| Service # | R78823, 221672 |
| Unit # | RCAF, No. 433 Porcupine Sqd. |
| Resident | Wallaceburg |
Born 19/09/1920 at Wallaceburg, ON. Son of Joseph John Taylor and Eleanor Alys (Carr), of 588 Lafontaine St., Wallaceburg. The brother of Sgt. Eric (RCAF) Prior to his enlistment Joseph was employed at the Dominion Glass Co. He enlisted on December 1942.
The Wallaceburg News 2/01/41 reported that Leslie was reported being at the RCAF-Manning Pool in Toronto. He spent New Years with his parents in Wallaceburg.
Joseph served in England with Bomber Command No. 6 Group, stationed in Yorkshire.
Joseph returned to Canada aboard the Ile de France without advising his parents he was on his way home. His name was missed on the manifest and that delayed him in Halifax. It was quite the surprise for his parents when he just walked into their house. WN 28/06/45 He was thankful to the men at the Glass Co. for the and the Knights of Columbus who sent 'smokes' overseas.
After the war he returned to Wallaceburg, in 1948 bought a house at 578 LaFontaine Street moving to 576 on the same street in 1954. Information from his son David Joseph of Corunna, ON.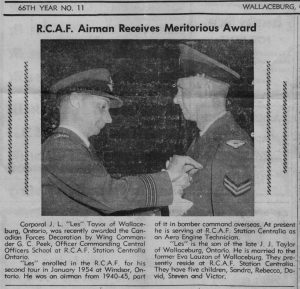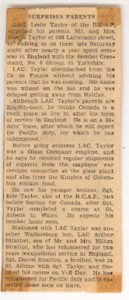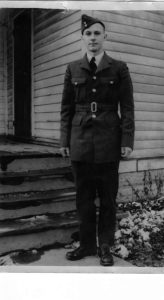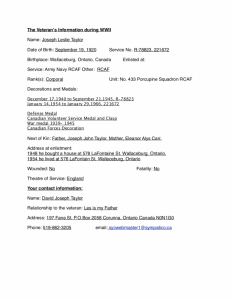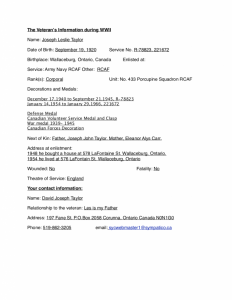 ADDITIONAL INFORMATION
| | |
| --- | --- |
| Sources | WW-RH, D.J. Taylor (son), WN |
---
Notice something wrong with this record? Or, do you have something to add?
Report it using our online form.